Sigma Software Labs is pleased to introduce the newest resident – DOVKOLO Club, the project incubated in the venture lab since its inception with the support of Sigma Software tech and business teams.
DOVKOLO Club is a local services recommendation platform for relocants. Using the app, people who turned out in a new environment can easily navigate through basic issues such as car repairs, finding a doctor, or locating a restaurant with native cuisine, following the recommendations from other relocants of the same origin. Currently, the app works for the Ukrainian audience, but in the future, the development team is going to extend it to other cultures, nationalities, and groups of expats.
What is DOVKOLO Club?
"The idea for the app came about when Sigma Software specialists, who had to move with their families to different cities of the world, as well as lots of other Ukrainians, faced the problem: knowing almost nothing about the place they were going to, so they collected information and useful contacts through social networks and other sources. To help such people finding proven high-quality services, we came up with the idea to create an application that would collect reviews and recommendations about the local services and facilities that relocants are used to in their native country and may recommend to others. " 

— says Darya Gruntovska, CEO of DOVKOLO Club. 
Recognizing the difficulties, the Dovkolo Club team created an app to help those moving to a new place or country adapt more easily. The application's aim was to provide a platform for people to share their findings and leave feedback on the most comfortable places to stay, businesses, and services, and outline Ukrainian services abroad. Thus, getting help, finding a hairdresser, or establishing a working relationship would become easier thanks to feedback from like-minded people.
The path from idea to an app with Sigma Software Labs
As Sigma Software's venture wing, Sigma Software Labs is focused on facilitating product ideas within the company first, so DOVKOLO Club was incubated in the venture lab from the very beginning. The incubator team worked closely to improve the strategic vision, involving experts in different areas and business domains to share their knowledge and make the concept suited to cater to the needs of expats worldwide. Together with the founders, we went through all the initial steps of establishing a legal entity and formalizing paperwork.
Alongside solid business support, the project was backed by Sigma Software's technical capabilities to implement the MVP in accordance with the best practices of premier IT consulting – a team of developers, engineers, and designers have contributed their expertise to create a seamless user experience. The pilot version of the app was launched in a just few months and is already gaining a pool of reviews and recommendations.
Together with the startup team, we are now working to expand the community of users around the world. Thanks to the fact that the project was born within a global company with multiple offices around the world, the founding team is now attracting like-minded people as ambassadors of the project among their colleagues, who work outside Ukraine and understand the problem of adaptation and cross-cultural communication in a new environment better than anyone else.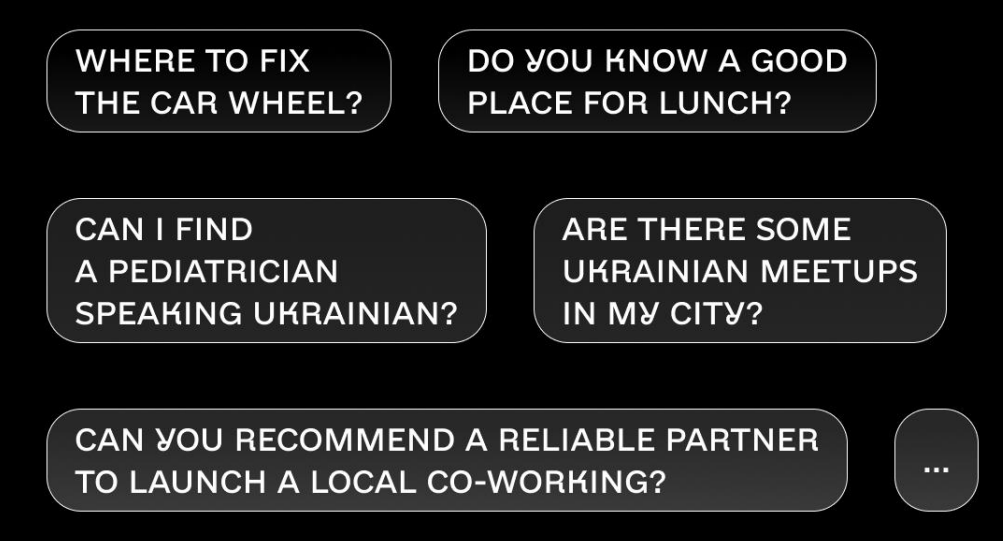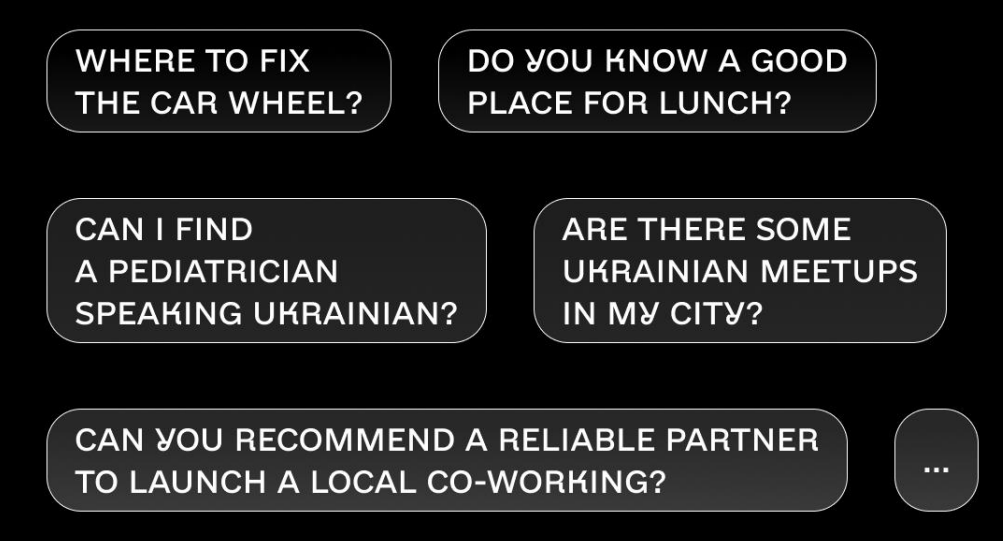 A major part of activities also includes assistance in scaling operations beyond – from taking part in local and international startup events, and up to support with fundraising processes and global outreach.
"We were always focusing on supporting creative minds and entrepreneurship spirit within the company. Thus, when in Dovkolo Club case we saw two exact points from the very beginning — clear problem statement, and dedicated team, we stepped in on behalf of internal venture lab to make products' path even more efficient. For now, DOVKOLO Club idea is obvious to everyone who was forced to leave their home and start adaptation in the different place — instead of dozens information sources you could now explore recommendations of like-minded community within one app, so simplifying cross-cultural adaptation and finding places to feel yourself like home"

— Daria Yaniieva, Investment Director at Sigma Software Labs
Who is the team?
Daria Gruntovska – CEO, a well-established program and account management expert who has been working on product development in various areas in the enterprise category for over 12 years;
Oleksandra Vaisburd – CMO, an experienced public relations specialist who works to raise brand ambassadors and expand product audiences.
Julia Shkuratova – product leader with extensive expertise across the product lifecycle and startup environments, a team's mastermind.
Yuliia Samborska-Muzychko – key ambassador, focused on product expansion in Poland but contributing world-wide.
Team of ambassadors, sharing their recommendations and helping the users get the best guidance on the local services.
CEO of Sigma Software, Valery Krasovsky, stepped in as a Founding Partner since the idea stage. For now, Valery is contributing to the development of the strategic vision as well as scaling it within the global tech network.
How does DOVKOLO club make life easier for relocants?
Proven services. Users can be sure that the places they want to visit have already been tested.
Convenient selection. The app helps you find places to make your stay in a new city more accessible.
Easy adaptation. The app will offer services of the quality you are already used to.
Ongoing updates. Recommendations and comments on the selected location are updated in real-time, so the information is always up-to-date and the process of finding the right place in a new country can be simplified.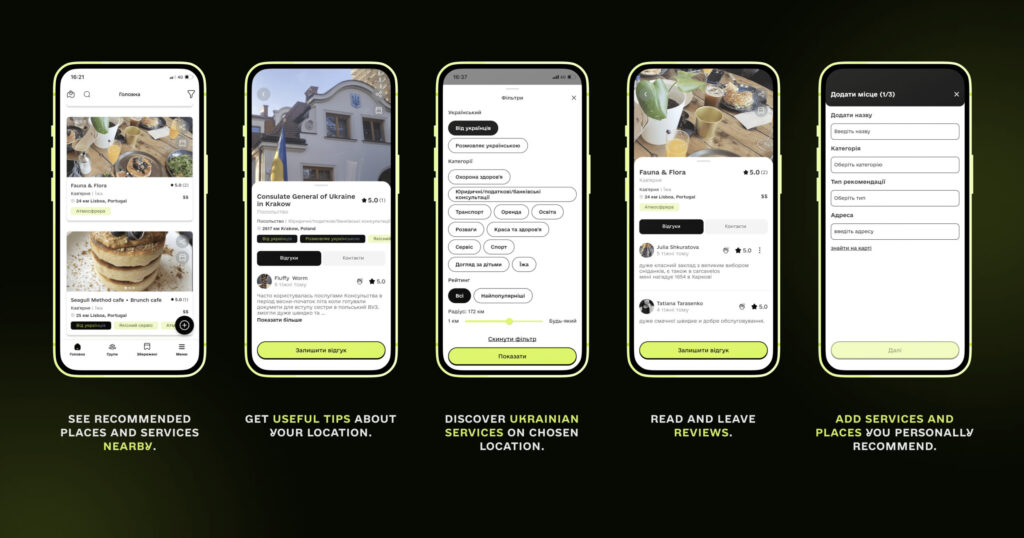 Using the app, a person will increase their network, find the right services recommended by the community of co-thinkers, and replace dozens of information channels by gathering everything in one platform.
Development milestones of DOVKOLO Club
"According to current market forecasts, there are around 60 million expats worldwide and this figure is growing. Even when living abroad, people want to visit places and use services that are comfortable and understandable to their culture. Taking into account all the cultural peculiarities, the app can become very popular," – says Oleksandra Vaisburd, the co-founder of the startup.
The app is now focusing on Ukrainians abroad, however, in the next phases the founding team plans to adapt the concept according to the needs of other expat communities. Upcoming plans also include cross-community interactions to find and connect people nearby, as well as AI-based recommendations.
Follow the startup's social media pages LinkedIn and Facebook to be the first to receive information about the app's updates.
Download from App Store or Google Play to explore locations nearby via your smartphone.