Sigma Software Labs is pleased to announce its recent investment in GeekPay platform — a turnkey solution for de-risking and tracking payments in digital currencies.
As the world moves towards a cashless society, the demand for tools and platforms that can facilitate the use of digital currencies is only going to increase. GeekPay is well-positioned to take advantage of this trend and become a leader in the payments space. With plans to expand its platform, integrate with more virtual currency networks, and explore partnerships with other blockchain projects, GeekPay is poised to make a big impact on the payments industry.
Veronica Korzh, CEO and Co-founder of GeekPay, gives a comprehensive overview of the product's potential and landscape, the core team behind it as well as upcoming plans after closing the round.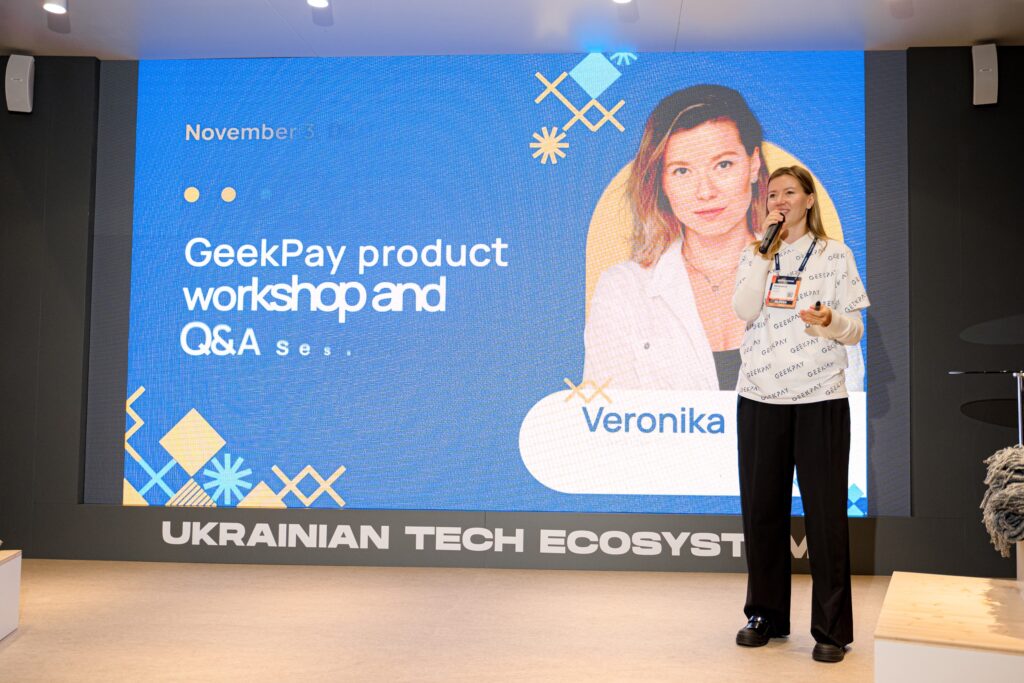 What is GeekPay?
The idea of GeekPay came up in spring 2022 and appeared within the NEAR ecosystem that helped many startups and entrepreneurs to start their ideas. After 3 months of market analysis and customer development, the product went live.
Compared to other solutions, GeekPay has several benefits:
1. User identification during the registration.
Customers can be sure that payments are transferred to a valid wallet in the correct network and there is no risk of losing money, which is a big problem in the industry.
2. Void the transaction feature.
In case the transaction was incorrect, or if the receiver has no access to their wallet for some reason, GeekPay funds can be returned. Having quite a few client's cases like this, GeekPay confirmed the ability to successfully mitigate such risks, so companies have no need to pay their contractors again and can diminish moral hazard due to increased liability when making a large number of payments.
3. Decreasing the amount of communications while making transactions.
By validating two counterparties and providing the status of transactions, GeekPay makes sure that the money is delivered successfully without double-checking payment details via communication with the addressee.
4. Full-fledged reporting system.
Providing the entire reporting such as date, transaction statement, addresses, and other vital data, customers could easily declare their expenses in cryptocurrencies in different jurisdictions.
What businesses can benefit from the solution?
Veronica Korzh sees the platform as a crucial bridge between web 2.0 and web 3.0 businesses. With the growth of the digital currency space, many companies are looking to transition to web 3.0 technologies and integrate blockchain into their business processes. However, this can be a complex and daunting task for many web 2.0 companies that are not familiar with the technology. GeekPay aims to simplify this transition by its user-friendly interface. This makes it easier for businesses to start using digital currencies and blockchain without having to invest significant resources into research and development.
The digital currencies are already adopted in many countries as a standard payment solution together with the taxation legislation in place. Even though, it can hardly be called a massive adoption, but the trend is definitely in place and countries increasingly implement the set of laws regulating the space. The headliners, of course, are Switzerland and the USA.
GeekPay's next steps
GeekPay's next steps involve two main directions: gaining traction and closing their pre-seed investment round.
To gain more traction, the GeekPay team is working on an aggressive campaign to onboard more early adopters to the platform. They are actively working with their existing clients to gather feedback and improve the platform's features to meet the needs of businesses. Currently, five companies are already using the platform and over 40 more companies are in the pipeline.
In addition to gaining traction, the team focuses on closing their pre-seed investment round. They are looking to attract both web 2.0 and web 3.0 investors to help propel the platform's growth and development. With this investment, the team hopes to continue expanding their user base and enhancing the platform's functionality.
Who is the team?
The company is backed up by the team of co-thinkers:
Veronica Korzh, CEO and sales executive with 10+ years in management of global tech teams of contractors for Verizon, Volvo in the USA, Israel, and EU. A partner in VC, startup mentor.
Vova Lando, CTO, solution architect, ex-engineering manager at Upwork, head of tech success at Parity (Blockchain Infrastructure for the Decentralised Web).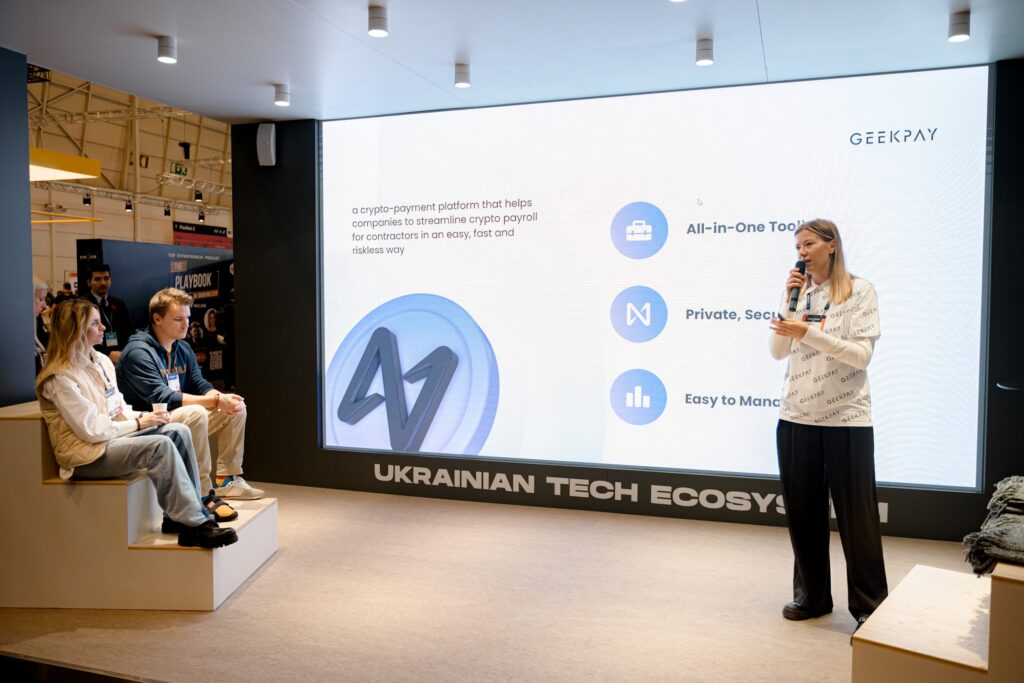 The dev team includes a principal  Full-stack engineer and  the team of contractors in cooperation with Sigma Software. To help companies save the budget and optimize the expenses, Sigma Software provides our starships with an exclusive opportunity to get extra services from a premier IT consulting provider. GeekPay used the opportunity and engaged DevOps engineers & design professionals to their team. One of the most important areas are security and UI/UX part, this cooperation helps to build the product ready for massive adoption. 
The company is already backed by a strong advisory board with experts from different areas. Nestor Dubnevych, Co-founder at Legal Nodes, assists with structuring the legal part and building interaction with companies. Dmytro Vartanian, CFO at Sigma Software, a certified lawyer that manages 14 companies in 9 jurisdictions, became a financial advisor. Datrics' (YCombinator W21 alumni) Co-founders Anton Vaisburd and Kirill Kirikov joined as advisors with sufficient blockchain background and industry connections. The business interest is supported by Valery Krasovsky, CEO at Sigma Software.
In the near future, GeekPay is looking to attract an ambitious COO — a person who will deal with sales and marketing, together with the customer's success. If you are looking for the exciting opportunity please apply to veronica@geekpay.co
GeekPay and Sigma Software Labs
Besides access to ample resources of the well-developed Sigma Software infrastructure, we see the potential of our joint efforts with a new portfolio company.
"Being a venture vehicle of the bigger IT brand, our investment strategy is focused on solutions, where we could become an active investor and facilitate their growth with our support. It means not only providing access to premier IT services, but sharing opportunities among our Partner and Client network. In GeekPay case, we see an obvious potential to bridge the solution with our leads, both sharing new business development opportunities with portfolio startups and providing sophisticated products to our trusted partners solving their needs in a more efficient manner. Observing high demand for such payment solutions, we do believe that GeekPay will achieve impressive results as well as intensive company growth"


Daria Yaniieva, Investment Director at Sigma Software Labs
Explore the full payment tools' galaxy by GeekPay on their website